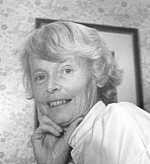 Name: Joan de Hamel
Date of birth: 31 March 1924
Date of death: 28 July 2011
Place of birth: London
Lived in: Otago Peninsula
What is your favourite food?
Belgian or Swiss bitter chocolate.
Do you have a nickname and if so what is it?
No.
What was your most embarrassing moment?
About fifty years ago, it was the custom for pregnant women to wear smocks, which were like loosely gathered shirts, with folds that camouflaged bulging stomachs. I was shy about buying one. Eventually I went into a likely shop and leant across the counter to whisper to a shop assistant. "Do you smell socks?" I heard myself enquiring.
How do you relax?
Cryptic crosswords.
Who inspired you when you were little?
Mrs Jefferson, an elderly teacher, who used to wander into the classroom, greet us affectionately, sit down comfortably and read us poetry. As we picked up the words, we would join in. Her relaxed attitude with children, and the poetry, have influenced me ever since. I still recite the poems in my head, in her voice.
Cheerful and ambitious.
What was your favourite/most hated subject at school?
Favourite: Gymnastics
Most hated: Piano lessons, because of the teacher who slapped my hands and withered me with criticism.
What was the book you most loved as a child?
The flower fairies books by Cicely Mary Barker. I loved the exquisite pictures even more than the verses, which I soon knew by heart. I lived in London but escaped to the fields and hedgerows of the country-side through these books. Whenever we went to stay in the country, I used to look for, and find, the flowers - but never a fairy.
Which person from the past would you most like to meet?
Voltaire, the eighteenth century philosopher. I would like to sit in and listen to his conversations with his contemporaries. (Fortunately I do understand French.)
Who is your favourite author/children's author?
Author: Milton, George Eliot, Chamoiseau.
Children's author: Jane Gardam, Margaret Mahy, opens a new window.
Why did you want to be a writer?
I just Am a writer. Having droned out stories and recorded them with squiggles and pictures, I eventually reached the ripe age of 4 or 5 and learnt to write. I have done so ever since, through a career as a teacher, bringing up a large family and now breeding Angora goats (I sold my dear donkey to a young family a few years ago.)
Do you have a special place where you write your books?
If possible, out of doors, up at the farm. I sit on the hillside above the Pacific Ocean, in the casual company of my goats, who listen to my mutterings but never criticise a word. I have to transfer these first freehand versions on to computer in my study, where all the hard work and revisions take place.
What's the best thing and worst thing about being a writer?
Best: Knowing, occasionally, you've got it really RIGHT.
Worst: Re-re-re-working it when you know you've got it really wrong.
If you weren't a writer, what would you like to be?
Any career involving children and/or natural history and/or animals - but I would always be writing about them too, just because that's what I DO, not necessarily for publication.
What advice would you give to aspiring writers?
There is a Gypsy saying: "Shoon, dic and rig in zi." It means "Hear, see and bear in mind." Do that and keep writing everything down. Observations and memories rub against each other, kindle imagination, spark off ideas. You'll get good at writing too.
Read a short story online by Joan de Hamel
Read some books by Joan de Hamel
More information about Joan de Hamel
This interview is from 2002.