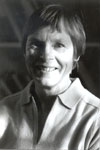 Name: Joanna Orwin
Date of birth: 28 November 1944
Place of birth: Nelson
Now living in: Christchurch
What is your favourite food?
Chocolate.
What was your most embarrassing moment?
My dog catching a duck in front of 400 people at Boat Race Day, Lake Rotoiti (Nelson) when I was about 11.
How do you relax?
With a good book when I'm feeling lazy; tramping in the hills when I'm feeling energetic.
Who inspired you when you were little?
A great aunt and an elderly friend, who believed in me and accepted me for 'me' - they taught me that it was OK to be yourself.
What were you like at school?
Shy, quiet, hardworking - but the other kids joined in the imaginative games I organised at school.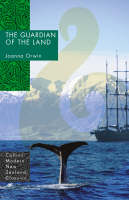 What was your favourite/most hated subject at school?
Nature and Social Studies - favourite.
Maths - most hated.
What was the book you most loved as a child?
Everything written by Rosemary Sutcliff.
Which person from the past would you most like to meet
Shakespeare - because of his amazing knowledge of people and the way they behave - knowledge that is still totally relevant in the twenty-first century.
Who is your favourite author/children's author?
Too many great authors to settle on one favourite.
Why did you want to be a writer?
To see if I could write books that children would want to read - to share ideas and the things that mean the most to me, particularly the New Zealand landscape and stories that grow out of living in New Zealand.
Do you have a special place where you write your books?
Not really, but my computer now sets the place I write - in my living room, with morning sun.
What's the best thing and worst thing about being a writer?
The best thing - exploring ideas and finding out stuff.
The worst - not being sure the story is working.
If you weren't a writer, what would you like to be?
Anthropologist - studying now communities of people relate to each other and their environment.
What advice would you give to aspiring writers?
Read, read, read; write, write, write.
Read a short story online by Joanna Orwin
Read some books by Joanna Orwin
More information about Joanna Orwin
Read posts featuring Joanna Orwin from the Christchurch Kids Blog.
This interview is from 2002.