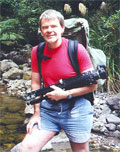 Name: Len Doel
Date of birth: 30 March, 1954
Place of birth: Whangarei
Now living in: Auckland
What is your favourite food?
Beef Korma
Do you have a nickname and if so what is it?
The Lensman
What was your most embarrassing moment?
Arriving on an island for a ten day trip without film.
How do you relax?
Read or make photographs for myself.
Who inspired you when you were little?
My Dad took me shooting and taught me how to 'read' signs of animal activity from the surrounding environment. He also took me snorkelling to find crayfish and paua.
What were you like at school?
Average student; had to work for my grades.
What was your favourite/most hated subject at school?
Enjoyed Science Biology and at Teacher's College majored in Art.
Didn't like English or performing in front of an audience.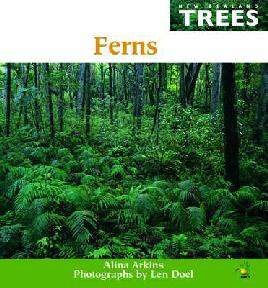 What was the book you most loved as a child?
Treasure Island by Robert Louis Stevenson.
Which person from the past would you most like to meet?
Captain James Cook navigator, explorer and observer,
Frank Worsley explorer and Shackleton's navigator.
Who is your favourite author/children's author?
David Hill; Gerald Durrell; Margaret Mahy, opens a new window
Why did you want to be a photographer?
I made images for myself that others admired, so I made more for other people as well.
Do you have a special place where you make your pictures?
My special place for making pictures is outside, preferably on a coastline, but anywhere away from human habitation.
What's the best thing and worst thing about being a photographer?
The best thing is making an inspiration image of an organism I admire. The worst thing is analysing my work when it is returned from processing and throwing it all in the rubbish.
If you weren't a photographer, what would you like to be?
I would like to be an eco tour guide, spending time on offshore islands or helping Biology students with their research, preferably underwater.
What advice would you give to aspiring photographers?
Learn how to use your image capture tools, make lots of images, dump the ones you don't like, work out why you like the ones you do like. Look at other people's work and decide why you like/dislike it. Don't collect equipment or brand names e.g. Canon, Nikon… Find equipment that produces the results you like and make it do what you want. Be prepared to carry your gear in a pack for several days of tramping.
This interview is from 2002.