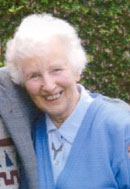 Name: Margaret Hall
Date of birth: 27 April, 1925
Place of birth: Christchurch
Now living in: Hokitika
What is your favourite food?
Pizza
Do you have a nickname and if so what is it?
Margie or Kes
What was your most embarrassing moment?
Always early for appointments, I was 45 minutes late for a 30 year reunion, and I was guest of honour!
How do you relax?
Reading, walking, bird-watching and gazing at the sea.
Who inspired you when you were little?
Arthur Ransome (the author) and the lady editor of The Press (Christchurch newspaper).
What were you like at school?
Shy, and with not much confidence.
What was your favourite/most hated subject at school?
Favourites: Essay writing (but not English grammar) and Geography.
Hated: English grammar
What was the book you most loved as a child?
E. Nesbit books.
Which person from the past would you most like to meet?
St Francis of Assissi (I'd love to talk to animals and birds).
Who is your favourite author/children's author?
Author: Jane Austen
Children's author: Diana Noonan, opens a new window and Arthur Ransome
Why did you want to be a writer?
I enjoyed adventure and animal stories and at eleven years invented my own.
Do you have a special place where you write your books?
On the sofa in my lounge during evenings.
What's the best thing and worst thing about being a writer?
Best thing: meeting people who love reading, and those who have enjoyed my books.
Worst thing: finding a publisher to accept my books.
If you weren't a writer, what would you like to be?
When I was younger I longed to have a job at sea.
What advice would you give to aspiring writers?
Write for yourself and enjoy it. Read the best books such as award finalists. Observe people and scenes and write descriptions. Keep a diary of your thoughts and feelings. Don't lose heart if your story is rejected several times. "Swag and tucker" was rejected nine times! I am happiest when I am writing.
Read some books by Margaret Hall
This interview is from 2002.