Name: Patricia Grace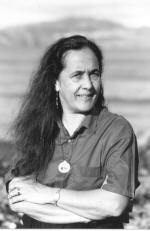 Date of birth: 17 August 1937
Place of birth: Wellington
Now living in: Plimmerton
What is your favourite food?
Fish
Do you have a nickname and if so what is it?
I do not have a nickname but I am known by either Patricia or Pat.
What was your most embarrassing moment?
I felt embarrassed once when I went into the men's toilet instead of the women's toilet.
How do you relax?
Fishing, reading, walking.
Who inspired you when you were little?
My parents, aunties, uncles, teachers
I liked learning and was very active in playground games and sports. Rather quiet in the classroom.
What was your favourite/most hated subject at school?
I liked Mathematics and English.
I didn't like sewing.
What was the book you most loved as a child?
The Adventures of Pinocchio, opens a new window, by Carlo Collodi - an English translation from the original Italian.
Which person from the past would you most like to meet?
My ancestress Metapere Waipunahau.
Who is your favourite author/children's author?
Children's author: Miriam Smith, opens a new window.
Why did you want to be a writer?
I've had a lifelong interest in the written word - firstly as a reader, then as a writer as well.
Do you have a special place where you write your books?
I have a room where I write, but I don't confine myself to the room. I can write almost anywhere.
What's the best thing and worst thing about being a writer?
I like coming to the end of the first draft and then perfecting the work.
The worst thing is muscular strain and injury from repetitive work.
If you weren't a writer, what would you like to be?
A saxophone player.
What advice would you give to aspiring writers?
Write, write, write - and read, read, read.
Read a short story online by Patricia Grace, opens a new window
Read some books by Patricia Grace, opens a new window
More information about Patricia Grace, opens a new window
Posts featuring Patricia Grace, opens a new window on the Christchurch Kids Blog, opens a new window.
This interview is from 2002.