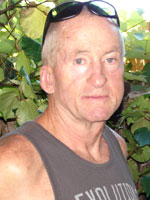 Name: Phil Smith
Date of birth: 30 July 1945
Place of birth: Rotorua
Now living in: Mount Maunganui
What is your favourite food?
Bananas. Banana smoothies, banana pancakes, banana cake, banana sandwiches.
Do you have a nickname and if so what is it?
Cyclone.
What was your most embarrassing moment?
Running the length of the field to score a try after the whistle had gone.
How do you relax?
Ruminate on complex philosophical issues with a bunch of bananas.
Who inspired you when you were little?
My father, because he fought the Germans in the war and stopped Hitler turning us into Nazis.
What were you like at school?
A dreamer, a loner, a stranger in a strange land.
What was your favourite/most hated subject at school?
Most hated: Mathematics and anything to do with numbers.
What was the book you most loved as a child?
Which person from the past would you most like to meet?
Jesus
Who is your favourite author/children's author?
Why did you want to be a writer?
I worked as a newspaper journalist for 35 years and figured there must be something more to life.
Do you have a special place where you write your books?
A small study surrounded by trees, 100 metres from the beach.
What's the best thing and worst thing about being a writer?
You get to create stories and characters but you have to spend months writing it all down and revising it.
If you weren't a writer, what would you like to be?
A lion tamer.
What advice would you give to aspiring writers?
Write about whatever interests you, things you know about or have a feel for. Don't worry about becoming rich or famous; you're a storyteller first, an artist with words, carrying on an amazing tradition that's lasted since time began.
This interview is from 2008.