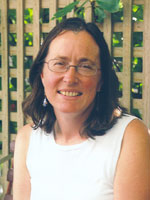 Name: Philippa Werry
Date of birth: 13 September 1958
Place of birth: Christchurch
Now living in: Wellington
What is your favourite food?
Any kind of fruit, especially raspberries, apricots and nectarines.
What was your most embarrassing moment?
In cooking class in Form One (Year 7) we were making stewed fruit. My stewed peaches turned out greyish and unpleasant-looking. The teacher tasted them and commented loudly (in front of the class) that I'd put salt in instead of sugar!
How do you relax?
Swimming, reading, going for walks.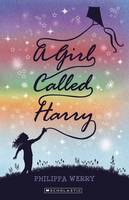 Who inspired you when you were little?
My secondary school English teacher in New Plymouth, Mrs Gaskin.
What were you like at school?
Very, very quiet. My school reports always said things like "Could contribute more in class".
What was your favourite/most hated subject at school?
Favourite: English and Maths
Least favourite: I wasn't much good at sewing, and it didn't help that our sewing teacher was a bit of a dragon. I wasn't very sporty, either, and some of the P.E. we had to do was just awful. We had to make up "sequences" on the floor and the beam in the gym and perform them in front of the rest of the class. Probably that was my second most embarrassing moment.
What was the book you most loved as a child?
I really loved Harriet the Spy by Louise Fitzhugh. I can remember the librarian telling me that she thought I was too young for it, but I took it out anyway and devoured it from cover to cover.
Which person from the past would you most like to meet?
Who is your favourite author/children's author?
My favourite author is Jane Austen. Children's authors - lots of them. Some I missed out on reading when I was a child, but I've caught up on them by reading to my own children. The My Naughty Little Sister books by Dorothy Edwards, the Narnia books by C. S. Lewis, Charlotte's Web by E. B. White, Diana Wynne Jones, Philippa Pearce, Joy Cowley, the Alice books by Phyllis Reynolds Naylor, The Silver Sword by Ian Serraillier, I am David by Anne Holm, and lots more! I also read lots of fairy tales and children's poetry.
Why did you want to be a writer?
I liked words. I liked how they looked on the page. I liked making something out of nothing except what was in my head.
Do you have a special place where you write your books?
There is a desk in our house which is supposed to be mine, but it usually gets covered with everyone else's stuff. Actually I can write almost anywhere, including on the bus (although my handwriting gets a bit wobbly).
What's the best thing and worst thing about being a writer?
Best - being able to imagine yourself into lots of different lives - the thrill when you feel you've got something right.
Worst - the disappointment when something you've written is rejected by a publisher. Often there is a good reason for it (like - they've just accepted something similar from somebody else) but that doesn't always make it any easier!
If you weren't a writer, what would you like to be?
I'd love to be able to play a musical instrument well enough to be in a band or an orchestra. It must be an amazing feeling to be able to create music with other people.
What advice would you give to aspiring writers?
Read, keep reading - try out a whole range of authors.
Write, keep writing - any sort of writing will do - letters, diaries, poems as well as stories.
Read some books by Philippa Werry
More information about Philippa Werry
Philippa Werry's website
Read posts featuring Philippa Werry from the Christchurch Kids Blog.
This interview is from 2006.