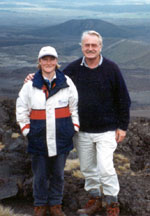 Name: Sarah Ell
Date of birth: 12 October 1970
Place of birth: Takapuna, Auckland
Now living in: Milford, Auckland
What is your favourite food?
Steak
Do you have a nickname and if so what is it?
No, luckily – lots of people involved in sailing get terrible nicknames, but I have escaped this!
What was your most embarrassing moment?
Being asked at a school visit (as an author) whether or not I dye my hair – and not knowing whether or not to tell the truth!
How do you relax?
Sailing, listening to music, reading the newspaper.
Who inspired you when you were little?
My father, who is also a writer.
What were you like at school?
Talkative – my reports would always say I talked too much!
What was your favourite/most hated subject at school?
Favourite: Geography/Social Studies
Most hated: Maths/Physics
What was the book you most loved as a child?
The Talking Parcel by Gerald Durrell
Which person from the past would you most like to meet?
Captain Cook, an amazing adventurer.
Who is your favourite author/children's author?
Children's authors: Susan Cooper, Penelope Lively, L.M. Montgomery
Adult authors: Carl Hiassen, Maurice Shadbolt
Why did you want to be a writer?
Always making-up stories, over-active imagination!
Do you have a special place where you write your books?
My office at home – sunny, looks out on the garden.
What's the best thing and worst thing about being a writer?
Best: being able to make stuff up, live in another world.
Worst: discipline – books don't write themselves!
If you weren't a writer, what would you like to be?
Architect
Professional yachtsperson
What advice would you give to aspiring writers?
Write about what interests you, what you feel is important/interesting. Keep going! Be observant. Read widely.
Read some books by Sarah Ell
More information about Sarah Ell
This interview is from 2002.