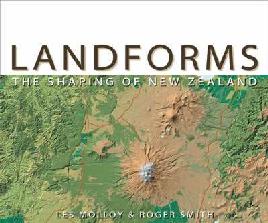 New Zealand has a complex geology and an ongoing active history of earthquakes, landslips and volcanic activity. Te Ara (the Encyclopaedia of New Zealand) gives an excellent overview of New Zealand's geology.
Volcanoes
GeoNet maintains a Volcano Watch which lists current volcanic activity.
GNS Science (a Government research institute) has an informative web site about New Zealand volcanoes.
Mount Tongariro, Mount Ruapehu and White Island have all been active relatively recently.
Tongariro
Explore its history of Mount Tongariro eruptions:
Historical eruptions
The most famous eruption in recent history was that of Mount Tarawera in 1886 which caused significant loss of life in villages nearby and destroyed the famous Pink and White Terraces.
Further back in time, the Taupō Volcano produced massive eruptions which led to the creation of Lake Taupō. Locally, the Lyttelton and Akaroa harbours of Banks Peninsula were formed around 6000 years ago when the calderas of these extinct volcanoes filled with sea water.
Landslides
Landslides have happened regularly throughout New Zealand's geological history. Perhaps the most dramatic slip was the collapse of part of the east face of our highest mountain, Aoraki/Mount Cook, on 14 December 1991. The peak was shortened by 10 metres. In 1979, a massive slip in the Dunedin suburb of Abbotsford caused 70 houses to be destroyed or relocated.
Earthquakes
New Zealand is positioned on the boundary of the Australian and the Pacific tectonic plates. It is movement in these tectonic plates – huge chunks of the earth's crust – that cause earthquakes. 
Earthquakes are common in New Zealand though most are not strong enough to be felt. Large earthquakes can be destructive. Recent large, damage-causing earthquakes have happened in Wellington, Kaikōura, Seddon, Christchurch and Darfield.
Historically, other significant quakes in New Zealand have happened in Edgecumbe, Inangahua, Hawkes Bay, Murchison and Wellington.
Search our catalogue
Earth sciences