Library Names: the Stories of the Bilingual Names for Christchurch City Libraries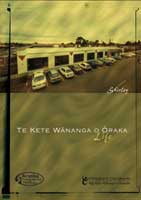 This is an area in the vicinity of Horseshoe Lake which was known to Māori as 'Te Ōraka' in the Ngāi Tahu dialect or seen sometimes in historical writings as 'Te Ōranga.' This lagoon was sited in the Wainoni area of Christchurch.
In pre-European times Waikākāriki was the site of a significant Māori settlement called Te Ōranga. The lake was also later called Waikākāriki - Wai means water and kākāriki has various meanings including green, a type of green lizard or a green parakeet or parrot.
In 1868 Te Ōraka was unsuccessfully claimed by Aperahama Te Aika as part of the Kaiapoi Ngāi Tahu mahika kai. Te Aika also claimed this area because part of it was also an important urupā (cemetery) for his people and had been used since first occupation in the area. The Native (Māori) Land Court however dismissed the claim completely on the basis that it had already been sold to the Crown.
Shirley, as a suburb, was named after Mrs Susannah Buxton, nee Shirley, who on her deathbed asked her son to gift land to the Methodists to build a church. Her wish was carried out and the Shirley Methodist Church was subsequently named after her. The suburb eventually became known as Shirley after the church.
Listen to the Māori name [79KB MP3]
Related pages