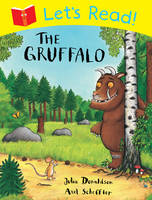 I love Bottle Lake Plantation. If you know where to look, there is always something to see. Sometimes its birds and rabbits. Other times it's blackberries and birds. Once I saw two carved trees. But I have never, ever seen a Gruffalo. This year that could change. The Breeze Walking Festival is on again from 29 September to 14 October (over the school holidays) and young walkers can become Mouse to explore the deep dark woods on this self-guided walk featuring storytelling and Gruffalo craft activities. The Gruffalo Explorers walk starts at Bottle Lake Information Centre and the walk takes 30 to 60 minutes. Make a pair of mouse ears and go for a walk. Will you find any of mouse's friends? Will you find the Gruffalo? I hope so.
Things to know:
It's on Wednesday 3th October, with a postponement date of Thursday 4th October.
The walk starts anytime between 10am and 1pm and finishes by 2pm.
You meet at the Bottle Lake Information Centre.
It is an easy, flat walk,suitable for preschoolers and for children in pushchairs/buggies.
Your dog is welcome too, but must stay on a leash at all times.
I'll see you there.
The Breeze Walking Festival
The Breeze Walking Festival is on from Saturday 29 September to Sunday 14 October.
Here are some more walks that particularly suit whānau and tamariki:
Going on a Bear Hunt - Tuesday 2 October (approx. distance 1km)
1pm - 2pm; 2pm - 3pm Walter Park Playground, Hills Road, Mairehau, Christchurch
Bring the children down to the park for a swishy swashy, splashy, sploshy, squelchy, muddy, experience. Great outing for the younger walkers and their families. Gumboots essential.
Find out more.
Pukeko Stomp - Tuesday 9 October (approx. distance 1.5km)
Start anytime between 10am and 11.30am to finish at noon. Halswell Quarry, Kennedys Bush Road, Kennedys Bush, Christchurch
Shake your tail feathers as you skip, walk, hop and stomp your way around Halswell Quarry to find Perky the Pukeko and friends. Find out more.
There are plenty more walks for all ages and abilities. See them all on The Breeze Walking Festival site, or pick up a brochure from your library or CCC facility.