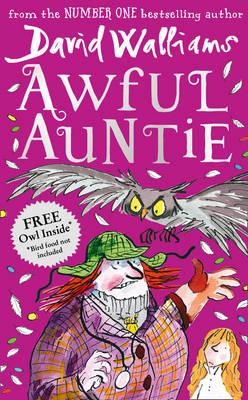 I've been a huge fan of David Walliams since he introduced the world to Little Britain.  His weird sense of humour was right up my alley and I was excited when he decided to turn his humour to books for kids.  Though a little sceptical at first (another celebrity trying their hand at writing children's books) David Walliams soon showed that this wasn't a phase he was going through. He is an absolutely wonderful writer for children, introducing children and adults alike to the weird and wacky characters that live inside his head.
It was clear by the massive audience that came to meet him at the Auckland Writers Festival this morning that he has a huge fan base of children of all ages in New Zealand.
David Walliams started his session by telling us that he writes for the love of writing and that his ideas coming from his 'dark and troubled mind.' Evil characters are always his favourite characters to create and he clearly has a lot of fun doing so. The inspiration for the villain in his book, Rat Burger, came from a contestant on the show Britain's Got Talent, a strange man whose act was eating live cockroaches.
The best way to start a Saturday - in a room full of excited kids and adults listening to David Walliams at #awf15 pic.twitter.com/Z6ASYLLjrQ

— ChChCityLibraries (@ChristchurchLib) May 15, 2015
David tries to think back to what books he would have liked to read when he was a kid and write those sorts of books. He believes that it is really important for kids to find books that they really want to read. This is how he discovered Roald Dahl, a favourite from his childhood. Illustrations are a huge part of his books as he thinks they're important to grab readers, especially those children who aren't readers.
It was watching comedians like John Cleese, Rowan Atkinson and the Monty Python crew that made David want to be a comedian who wrote his own material. While writing for his show, Little Britain, he realised that writing was his passion. He thought it would be great to do something like Little Britain - but suitable for kids. After writing his first few children's books, he found that he enjoyed writing for children so much that he kept on going. He has now written 7 novels and 2 picture books, with plenty more ideas to come. His picture books, although he admits are harder to write, are a great way for younger family members to get in to his books. They have the same great humour and are incredibly wacky.
Several of David's books have been made in to movies, including Mr Stink and Gangsta Granny.  David often thinks of actors when he's writing his books and has both written the screenplay and starred in each of the movies of his books. The character that he has most enjoyed playing was the Prime Minister in Mr Stink, although children often get confused and think he is the Prime Minister in real life. When asked if he would like Sir Peter Jackson to make a movie of one of his books he laughed and said 'if he made it it would be a 9 hour epic!'
David Walliams: "You feel like a magician when you write." at #awf15 pic.twitter.com/QZbFUHwFNn

— ChChCityLibraries (@ChristchurchLib) May 16, 2015
My favourite part of the session was when David Walliams read parts of his books. He reads them so well and does lots of great voices for his characters. David told us that outside of the UK, he is most popular here in New Zealand so hopefully we'll get to see him again some time soon.
Christchurch City Libraries connects you with the Auckland Writers Festival on from 13 to 17 May at the Aotea Centre. You can follow the action by reading our Festival posts.