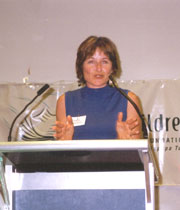 Name: Alison Robertson
Date of birth: 19 March 1958
Place of birth: Napier
Now living in: Hamilton via a very roundabout route.
What is your favourite food?
Hot buttered Vogel's with slices of cold tomato and lashings of salt and pepper.
Do you have a nickname and if so what is it?
Ali
What was your most embarrassing moment?
I was five, in Miss Rathie's class at Napier Central. I needed to go to the loo badly but I had to ask first. Miss Rathie was marking bookwork at the time and every time I got to the front of the line she said, "You haven't got a book, go away". She sent me back three times and in the end I couldn't hold on any longer. You can guess the rest.
How do you relax?
Read!
Who inspired you when you were little?
Books were never forced on us, but were always there and being read, so I guess my parents without my actually realising. I had two great English teachers at high school, in the third and sixth forms.
What were you like at school?
Talked too much. One teacher said he wished he had an armour mask so if he wanted me to talk he'd lift up the face plate.
What was your favourite/most hated subject at school?
Favourite: English and Music.
Most hated: Sewing
What was the book you most loved as a child?
Yertle the Turtle, by Dr Seuss. Little Women, by Louisa May Alcott. All the Jungle Doctor books by Paul White.
Which person from the past would you most like to meet?
My great-great-great grandmother who was sent to New Zealand in disgrace.
Who is your favourite author/children's author?
I have many but they include: Kate De Goldi, Fleur Beale, Roald Dahl, Louis Sachar, John Marsden, Margaret Mahy, opens a new window.
Why did you want to be a writer?
I fell into it I guess. I didn't know what I wanted to do when I left school so did a journalism diploma. Much later after many years covering sport for radio I decided I wanted, more than anything else, to write fiction.
Do you have a special place where you write your books?
We have a study, and everyday I have to clear away my children's clutter before I can sit down at the computer to write. I spend a lot of time bird-watching.
What's the best thing and worst thing about being a writer?
I find it hard to call myself a writer because I have only one novel published. The best thing though, is having children tell me they like my book. The worst? Being on my own when the writing is not going accordingly to plan.
If you weren't a writer, what would you like to be?
A flutist in the New Zealand Symphony Orchestra.
What advice would you give to aspiring writers?
Read, read, read. Write, write, write.
Read a short story online by Alison Robertson
Read some books by Alison Robertson
More information about Alison Robertson
This interview is from 2002.