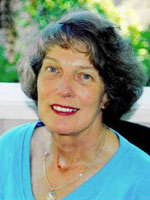 Name: Jacqueline Crompton Ottaway
Date of birth: 23 October 1950
Place of birth: Auckland
Now living in: Auckland
What is your favourite food?
I love café-style food and occasionally I like eating fish and chips and having a barbecue (especially on the beach).
Do you have a nickname and if so what is it?
I have several nicknames. Lots of friends call me Jackie although my parents hated my name to be shortened. My Dad used to call me 'Kiddo', 'Dead-loss' or 'Larrikin'. My sons and our next door neighbour call me 'Wom' and my daughter and youngest son call me 'Chums' but my husband always calls me Jacqueline because he thinks my real name suits me best.
What was your most embarrassing moment?
My most embarrassing moment was when I mistook a woman who was walking down Queen Street for my own mother and tried to go home with her. Luckily, I was about five at the time and Mum called out to me and I ran back to her with a red face!
How do you relax?
I like going sailing on our motor sailor Glencora around the Gulf and I love spending time with my family and my sister and her children at our family bach at Piha (a well-known surf beach on Auckland's west coast) where we go surfing and do heaps of bush walks.
Who inspired you when you were little?
My father inspired me as he would always take me on outdoor adventures and he encouraged me to play imaginative games. Both Mum and Dad encouraged me to write stories and publish poems in the Pixie Pages of the New Zealand Women's Weekly and enter writing competitions at school.
What were you like at school?
I was shy when I was at primary school and a bit of a goody-good but at high school I had lots of friends and joined in heaps of different things. Later on, I had a great time flatting with friends, going to parties, tramping, sailing, to the movies and out to dinner.
What was your favourite/most hated subject at school?
My favourite subject at school was always English and I also liked learning French and Latin. But I HATED Mathematics and I usually giggled and talked through most Maths classes.
What was the book you most loved as a child?
I loved Little Women, by Louisa M. Alcott; Anne of Green Gables, by L. M. Montgomery; the Famous Five series, by Enid Blyton; and the William series, by Richmal Crompton. (I always hoped that I might be distantly related to her.)
Which person from the past would you most like to meet?
When I was a child I most wanted to meet Joan of Arc, Christopher Columbus, Robin Hood and Maid Marion. I often played imaginary games with these heroes and I even called the scrubby patch of trees opposite our row of houses 'Sherwood Forest'.
Who is your favourite author/children's author?
My favourite children's authors are Sherryl Jordan, opens a new window, Tessa Duder, John Marsden and Anthony Horowitz.
Why did you want to be a writer?
I love writing imaginative stories that are based on something real that has either happened to me or to somebody I know. I feel that the process of writing creatively extends my world and makes my life more interesting and satisfying.
Do you have a special place where you write your books?
We have a computer room that I share with my three children. However, my two oldest children are about to leave home so I am hoping to get a larger writing 'space' all to myself! I also like jotting down ideas for stories and poems when I am on the boat or up at Piha.
What's the best thing and worst thing about being a writer?
The best thing about being a writer is the sense of achievement when you finish a piece of writing and it is accepted for publication.
The worst thing about being a writer is when you get stuck for ideas with the plot or the characters and you know that the words aren't coming out in the right way.
If you weren't a writer, what would you like to be?
I am also a school librarian at a Westlake Boys' High School and I enjoy this job as well. I like the people I work with, the company of the students and, of course, helping the boys to find information and to discover the joy of reading books.
What advice would you give to aspiring writers?
My advice to aspiring writers is to carry a notebook around with them and to jot down ideas, words and phrases that intrigue you or that you think might make a good story. It's also very important to read heaps, to learn from the techniques that other writers use and then to write heaps and to learn from your mistakes.
Read some books by Jacqueline Crompton Ottaway
This interview is from 2002.