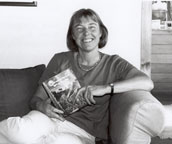 Name: Liz van der Laarse
Date of birth: 24 October 1952
Place of birth: Palmerston North
Now living in: Cable Bay, Northland
What is your favourite food?
Paella – a spicy Spanish dish of seafood and rice.
Do you have a nickname and if so what is it?
Miss!
What was your most embarrassing moment?
Every time I talk to a large audience. It's all those pairs of eyes looking at me!
How do you relax?
By going to the beach – to walk, swim, read, write, or just think.
Who inspired you when you were little?
Authors of children's books.
What were you like at school?
I loved learning – especially reading history books when I was young.
What was your favourite/most hated subject at school?
My favourite subjects were English and History.
The subject I liked the least was Physics.
What was the book you most loved as a child?
The Silver Sword by Ian Serraillier
Which person from the past would you most like to meet?
My pioneering ancestors.
Who is your favourite author/children's author?
Why did you want to be a writer?
Initially to provide books for reluctant readers and because it had always been a dream of mine to write books for children.
Do you have a special place where you write your books?
At the end of a day's tramping in the bush or the mountains I find myself a quiet place to write. When I'm on my own at the beach.
What's the best thing and worst thing about being a writer?
The best thing is creating characters and situations and making them seem real. The worst thing about being a writer is never having enough time to do it.
If you weren't a writer, what would you like to be?
A painter.
What advice would you give to aspiring writers?
Observe people closely, especially their body language.
Take care to choose the word which most precisely conveys the meaning of what you want to say.
Read some books by Liz van der Laarse
More information about Liz van der Laarse
This interview is from 2002.