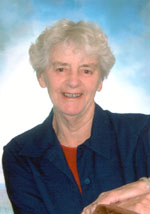 Name: Marie Gibson
Date of birth: 12 December 1929
Place of birth: Wellington
Now living in: Waianakarua (near Oamaru)
What is your favourite food?
I like most foods but especially salads with lots of bits in it and gooey dessert with cream.
What was your most embarrassing moment?
I once told a story that reflected badly on one of my teachers only to find that that person was in the group I was speaking to. Ouch!
How do you relax?
Beach walking, stretching out in the sun with a book, but mostly I don't like "relaxing". I'm always looking for something else to do.
Who inspired you when you were little?
The exploits of the stars in the Saturday afternoon adventure movies set my imagination going.
What were you like at school?
I did enough work to keep out of trouble but only just.
What was your favourite/most hated subject at school?
I enjoyed art and related subjects although I wasn't particularly good at it. I tried to avoid story writing because I had to finish to the bottom of the page and what I did was never neat enough.
What was the book you most loved as a child?
I didn't have a favourite book. I read anything and everything.
Which person from the past would you most like to meet?
Not one particular person but groups of people – e.g. a tribe of cave people or Captain Scott's team as they set out for the South Pole. It depends on who I am writing about at the time.
Who is your favourite author/children's author?
Joy Cowley and Margaret Mahy.
Why did you want to be a writer?
When I retired from teaching I was looking for something to fill in spare time.
Do you have a special place where you write your books?
So long as I have my lap top I can write anywhere.
What's the best thing and worst thing about being a writer?
The best thing about being an author is:
1. That I can continue to do it no matter how old I am.
2. I can lose myself in the lives of my characters.
The worst thing is when I write a story I believe to be the best I've ever written but I can't find a publisher who thinks the same.
If you weren't a writer, what would you like to be?
Illustrator.
What advice would you give to aspiring writers?
Keep writing.
Read a short story by Marie Gibson
Read some books by Marie Gibson
This interview is from 2005.