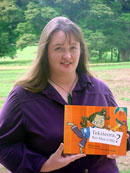 Name: Ngāreta Gabel
Date of birth: 29 July 1975
Place of birth: Auckland
Now living in: Kaikohe, Northland
What is your favourite food?
My favourite food would definitely have to be hāngi!
Do you have a nickname and if so what is it?
Some people call me Ngā for short.
What was your most embarrassing moment?
My most embarrassing moment is far too embarrassing to reveal!
How do you relax?
I like to go to fishing with my daughter Tekiteora, spend time with my family, read lots of books, and watch videos.
Who inspired you when you were little?
My Mum and Dad inspired me when I was little, as they always supported and encouraged me and my siblings in everything we did.
I was always quite diligent with my studies and enjoyed playing netball, kapa haka, and speech competitions.
What was your favourite/most hated subject at school?
My most favourite subject at school was Māori.
My least favourite subject was mathematics, but I kept at it all the same.
What was the book you most loved as a child?
When I was young I loved the Ramona and Beezus series of books by Beverley Cleary, I think I managed to read them all!
Who is your favourite author/children's author?
From a teenager onwards I read Witi Ihimaera's books, and I still enjoy them today. I also like Patricia Grace's writing.
Why did you want to be a writer?
I started writing so that I could create some stories in Te Reo Māori for my daughter to enjoy, and she is still the motivation behind me wanting to write in Te Reo Māori.
Do you have a special place where you write your books?
I don't have a special place, but I do always write (or scrawl my ideas!) using a pen and paper as opposed to using a computer. Writing rather than typing helps me keep up with the flow of my ideas.
What's the best thing and worst thing about being a writer?
I think the best thing about being a writer is the opportunity it gives me to share a part of my ideas, thoughts and life. It is a nice feeling to know that someone has enjoyed something you have created. I haven't yet come across the worst thing about being a writer!
If you weren't a writer, what would you like to be?
I am not a fulltime writer, but rather I write when I get a burst of an idea. I am also a teacher at Te Kura Kaupapa Māori o Kaikohe.
What advice would you give to aspiring writers?
Whāia te iti kahurangi, ki te tuohu koe me he maunga teitei!
Reach for the greatest thing
And if you bow your head, let it be to the highest mountain
Read some books by Ngāreta Gabel
More information about Ngāreta Gabel
This interview is from 2005.