Throughout the year, I've been eyeing up the book covers of Aotearoa in order to create an assemblage of the most beautiful, bright, and bold. Luckily there were plenty of tasty covers to feast upon.
GOLD: Poūkahangatus by Tayi Tibble
Cover art by Xoë Hall, published by Victoria University Press.
I had my eye on this one back in April, when VUP Books tweeted their cover reveal.The bold sexy colours! The snaky Medusa lettering!
We're pretty excited about Poūkahangatus out in July by @tayitibble Amazing cover design by Xoe Hallhttps://t.co/S8xjIaM6Po pic.twitter.com/lH9pndmBBQ

— Victoria Uni Press (@VUPBooks) April 11, 2018
This stunner of a cover is a perfect match for the badass fab poetry in Tayi's collection.
I've had a look at more work by Xoë, and WOW WOW WOW. My eyes are so pleasured.
She designed that spectacular dress on the cover of Tami Neilson's Sassafras record.
SILVER: Are friends electric? by Helen Heath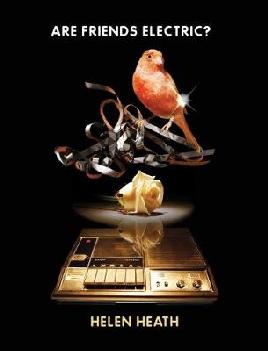 Cover by Kerry Ann Lee, published by Victoria University Press.
Helen Heath's book is one of the year's best; the poems are a compelling blend of earthy and intelligent. The beautiful tableau on its cover is by artist Kerry Ann Lee.
We are delighted to announce we're publishing ARE FRIENDS ELECTRIC? by @Helen__Heath in June! Fantastic cover by Kerry Ann Lee. https://t.co/qf8hbjegD3 pic.twitter.com/drVoWDZxCH

— Victoria Uni Press (@VUPBooks) March 27, 2018
BRONZE: Go Girl. Oh Boy.
Go Girl: A Storybook of epic NZ women by Barbara Else. Illustrations by Ali Teo, Fifi Colston, Helen Taylor, Phoebe Morris, Rebecca ter Borg, Sarah Laing, Sarah Wilkins, Sophie Watson and Vasanti Unka.
Oh Boy: A Storybook of epic NZ men by Stuart Lipshaw. Illustrations by Ant Sang, Bob Kerr, Daron Parton, Elliot O'Donnell (aka Askew One), Fraser Williamson, Michel Mulipola, Neil Bond, Patrick McDonald, Toby Morris and Zak Waipara.
Both titles published by Puffin (Penguin Books New Zealand).
This pair of books are a stand out. The bright sturdy covers, the diverse range of historic and contemprary Kiwis depicted, and the illustrations by New Zealand's finest. An all-ages joy.
What a treat! Here's a Sampling from GO GIRL by Barbara Else, thanks to @PenguinBooks_NZ https://t.co/Qj5LEopbGV pic.twitter.com/EIstaQoHgE

— The Sapling (@TheSaplingNZ) April 6, 2018
AND if your little one is into Stevens Adams, consider purchasing 'Oh Boy' by Stuart Lipshaw, featuring this sweet portrait by post-graffiti legend @askewone. OK, I'm done! https://t.co/JbnDSudXfy pic.twitter.com/CPxsBIekdU

— Penguin Books NZ (@PenguinBooks_NZ) October 3, 2018
BLACK AND WHITE AND READ ALL OVER


TYPOGRAPHICAL DELIGHTS
PERFECT SIMPLICITY
FACES FRONT AND CENTRE
 

GROUPS
BOOKS OF POETRY RULE THE COVERS SCHOOL
Browse more covers of New Zealand books published in 2018.
More best book covers
Best book covers of previous years
For more on local book covers and design, see the PANZ Book Design Awards.