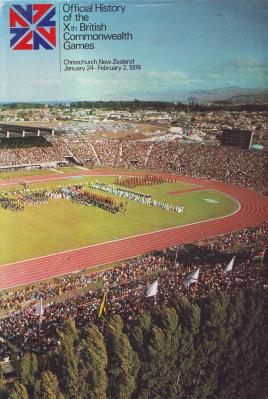 Do you remember the 1974 Commonwealth Games in Christchurch? I do. I was on holidays and watched John Walker setting records on the track, while next door in the same complex, the Canadians and the Australians collected medals in the pool. My husband and his brother were in Christchurch and when they could, they caught the bus to Cathedral Square so they could get autographs from the athletes.
Years later, I moved to Christchurch. I never ran on the athletics track, but I did go swimming in the pool. I think I set a record for the slowest lap. I didn't mind too much. I just enjoyed swimming in the pool where records were set all those years ago.
The park was damaged beyond repair in the 22nd February 2011 earthquake. For a long time, the site was a collection of broken buildings and long grass.
One day I drove by, and noticed some activity. Construction vehicles were unloading gravel and the site was being cleared.  Finally, good news - the site was going to become the new location for Avonside Girls High School and Shirley Boys' High School. Two lovely new schools in our neighbourhood. That's just part of it. A new Sport and Recreational facility and a re-built Christchurch School of Gymnastics are also planned.
On Sunday, 25th March, there was an open day, where we had the opportunity to meet with council recreation staff and school staff. The buildings are still under construction, so we couldn't go inside, but we walked around the damaged golf course and tried to remember how it was and dream of new uses of the space. The golf course was a lot bigger than I remembered, and in places it had become quite swampy. It was amazing how quickly the course had gone wild.
What will we have? Have your say. The Council is asking for your feedback (until Sunday 9 April 2018).
I don't know what the new park is going to look like, but I'm looking forward to using it again.