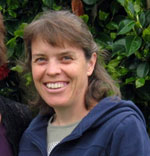 Name: Nikki Slade-Robinson
Date of birth: 1968
Place of birth: Te Puke
Now living in: Opotiki (where I grew up)
What is your favourite food?
Mm-mm… cheese! I like all sorts of food (but not mushrooms, bananas or eggplant!) - we have a big vege garden and grow some fruit too.
Do you have a nickname and if so what is it?
Well, Nikki is my nickname really. When I'm being a mummy sometimes I get called Mummles which I like… but then sometimes I get called a Meanie too when I make too many rules!
What was your most embarrassing moment?
Hmm there's nothing dramatic really.
How do you relax?
If I have spare time, which doesn't happen often, I like to read or draw (I'm always having ideas!) or go out in the garden with our cats or do something methodical like stack firewood! Or snuggle up with our kids and a good book each.
Who inspired you when you were little?
My parents - they are both artistic: they are potters at Cheddar Valley Pottery. I also was and still am inspired by other children's illustrators and writers. And I had a brilliant art teacher at college, Mrs Josie Mortensen.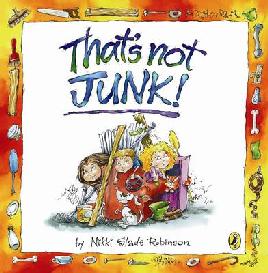 , opens a new windowWhat were you like at school?
Pretty quiet really, but always drawing. One of my school reports said I shouldn't draw so much in my maths book.
What was your favourite/most hated subject at school?
Art of course, and at college I also loved Technical Drawing. But I also enjoyed creative writing.
I didn''t like PE - it was pretty much netball and standard stuff - if only it had been tramping and dancing it would have been much more fun!
What was the book you most loved as a child?
Oh that is so hard to choose! My first favourite books were the Miffy books. I loved Harold and the Purple Crayon, Where the Wild Things Are, and as I got older I loved the Little House on the Prairie series. And Harriet the Spy. There were loads of others too, too many to list. I enjoyed many NZ writers… and I'm enjoying rediscovering our wonderful NZ writers and their newer books through my children. Jack Lasenby, opens a new window and Philippa Werry, opens a new window are huge favourites in our house with our oldest, and Gavin Bishop and Margaret Mahy, opens a new window with our youngest.
Which person from the past would you most like to meet?
My Grandparents who I miss so much. They had a huge part in my life and were inspirational. If I had to choose someone else I'd love to meet my ancestors, and find out who of them were artistic - from what I have heard, many were. In fact one of my ancestors wrote the original Town Mouse Country Mouse story.
Who is your favourite author/children's author?
I don''t think I can choose one! I think we have such a wonderful group of NZ writers! I think the 3 books that have hooked me most recently have been Jack Lasenby's The Lake, Phillippa Werry's Enemy at the Gate and David Hill's Running Hot.
Why did you want to be a writer?
Well I'm actually an illustrator first, and began by illustrating other people's books. When I was 5 I decided I was going to 'draw' kids books when I grew up - though I had no idea if that was at all possible! I always have pictures and words and ideas bouncing around in my head so they have to come out somehow, and I enjoy kids and kids books so I wanted to create books too.
Do you have a special place where you write your books?
I do have a studio, where I do my illustration, and much of my writing, but you never know when an idea is going to leap into your head so I also have notebooks and scraps of paper stashed everywhere - in the car, in my bag - and often a book idea starts when I''m out and about. Doing something like tramping, where you are being active but your mind is also free to float around, is a good time for ideas to happen.
What's the best thing and worst thing about being a writer or illustrator?
The worst thing - as an illustrator and writer - is submitting something to a publisher and having to wait months and months before you know if they will accept your book. The best thing is when your book comes out the other end as a proper finished book - especially if it gets good reviews - and especially when you hear from children that they like your book!
If you weren't a writer, what would you like to be?
Well for me illustration is my main career so I really don't know - I think it would have to be something creative - and quite probably working with children - and I guess it would be good if it was involving conservation work too in some way!
What advice would you give to aspiring writers or illustrators?
This applies to illustrators too - just keep writing and drawing heaps - have notebooks, write/draw down any part ideas that pop in your head, even if a funny name or title is all you have. One of my books - (Hannah Bandanna's Hair) - started just from the name of the main character popping into my head. Enter any competitions you can. And take on board any constructive criticism like a good sport. It may not always be easy to hear someone be critical of your work - but they may have a good point that will help you improve what you have written or drawn. Don't be scared to try!!
Read some books by Nikki Slade-Robinson
Read posts featuring Nikki Slade-Robinson from the Christchurch Kids Blog.
This interview is from 2010.