A guide to the library for teens - from joining and membership, to study and eResources, and library events for teens as well as finding your next great read.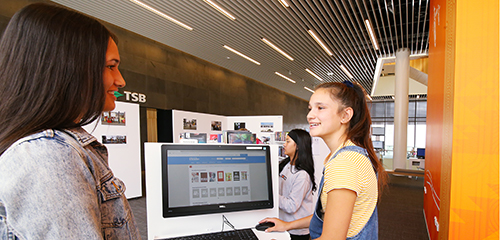 Youth membership
If you are under 19, it is free to join Christchurch City Libraries if you live in Christchurch city; or in Selwyn, Waimakariri or Hurunui districts. You can join online or at a library (we have 21 branches!)
Youth Membership is available to anyone aged under 19. A guarantor (parent or legal guardian) is required for those up to and including 17 years of age. 18-year-olds do not need a guarantor.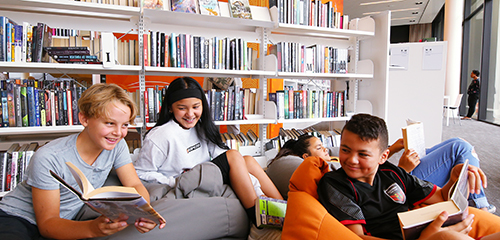 Youth membership enables you to:
If you are under 16 years of age you will also need the signature of a caregiver to complete your membership. 
Find out more about joining the library.
As soon as you become a library member, you can access library resources for personal, school and study use.
Note: If you join online, you have three months to visit a library to provide proof of address and ID to complete your membership.
What you can get with your library card
You can take out up to 30 items at a time, and keep for a month - then you have the option to renew them for another month. Items can be returned to any library – not just the library you visited.
You can access eResources the library subscribes to, for fun and learning. 
Find out more about borrowing from the library.
eResources
The library subscribes to eResources you can access for free, wherever you are. All you need is your library card number and password / PIN. 
Try eResources Discovery Search (eDS) for homework assignments and research. It searches our eResource collection, articles, eBooks, journals and more. 
eResources for teens include: 
Popular eResources aimed at teens include NoveList Plus and OverDrive for Teens.
Study help
Libraries are a good place to sit and study, and we have Homework eResources to help with all your subjects.
We are here to help. Friendly librarians are available to help you in any library.
When you can't come in to one of our libraries you can contact us by phone: we are available to take your call on +64 3 941 7923 between the following hours:
Monday to Friday: 8am to 6pm
Saturday: 9.30am to 5pm
If you need more help, you can book a free half hour session with a librarian.
You can get help online too:
LiveOnline is an interactive session with a librarian live over the Internet. Get answers to your questions, get help using eResources and more. LiveOnline operates from 9am to 6pm Monday to Friday, and 9.30am to 5pm Saturday.
Log in to AnyQuestions 1pm to 6pm Monday to Friday during the school year.
Find out about the ways you can contact us.
Explore our resources on exam preparation.
Good reading
We can help you choose your next great read.
Hot off the shelf: explore the latest titles for teens.
Email newsletters Sign up for our Teen Scene newsletter, Fantasy and Science Fiction, Popular Culture, or whatever topic you're into. We also have an email newsletter for Young Adult new titles.
Our blog: Teens News and reviews of young adult literature from library staff.
Teen booklists We've compiled lists of great books and resources on a bunch of different themes and topics including some aimed at NCEA reading.
NCEA reading Our guide for where to find recommendations for your NCEA English reading.
Staff Pickles See what our young adult literature experts are recommending or get one of them to make a suggestion for you based on what you've enjoyed before.
More info on Books and Reading for Teens
Out on the Shelves
Want to discover some great rainbow reading? Try our topic guide to LGBTQIA+ books and resources for teens, and explore Out on the Shelves:
Events
What's on at libraries - and around Christchurch - for local teens.