Our events calendar has information about upcoming activities for children.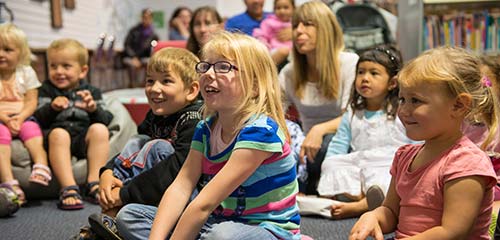 Holidays
Our Learning Centre holiday programmes are great for kids, and we also link to other Christchurch holiday programmes.
Learning Centres
The Learning Centres run programmes for kids after school as well as during the holidays.
Annual Events
Children's Day
New Zealand's Children's Day is a national, non-commercial day to celebrate how special and important our children are.
HELL Pizza Reading Challenge
The HELL Pizza Reading Challenge rewards New Zealand children for reading books in an incentivised reading programme that's simple: Read for Pizza!
International Children's Book Day
Each year a member country of IBBY (International Board on Books for Young People) sponsors an annual celebration of children's books on 2 April, which is Hans Christian Andersen's birthday.
KidsFest
KidsFest is New Zealand's biggest annual children's festival. It takes place in the July holidays and is aimed at kids up to the age of 12.
Matariki
During Matariki we celebrate our unique place in the world. Christchurch City Libraries has a full programme of events every year to celebrate Matariki, including crafts, storytimes and sessions for early childhood centres.
New Zealand Music Month
Christchurch City Libraries celebrates NZ Music Month in May with free music events at our libraries and special storytimes.
This programme is designed to provide a relaxed, non-threatening atmosphere which encourages children to practice their reading skills and develop a love of reading.
This popular summer activity happens every year.